I started out this blog on furniture using reclaimed wood, but instead got derailed into great cool furniture made from reclaimed anything!
1.) 11th Hour Furniture: Coop America Approved.
2.) Abundant Earth: all sorts of good stuff- sold online
3.) Airplane Furniture by MotoArt:
4.) Appalachian Designs: Asheville, NC
5.) Baltix Sustainable Furniture: , Long Lake, MN
6.) Bambuseae: Bamboo Furniture, Portland, OR
7.) Bean Products: Focus on Hemp
10.) Blue House Life: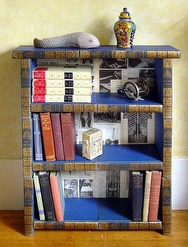 12.) Branch Furniture: Offer selections from many green designers.
15.) C.H. Becksvoort: Sustainable harvested wood furniture. Maine
16.) CitiLogs: NJ, Member of Green Building Council, Reclaimed and FSC certified woods
17.) Cohda: Products made with packaging waste;
18.) Computer Games Consoles Chair
19.) Design Bloom: Crushed can chair
21.) Emeco: Recycled Aluminum chairs
24.) Flitchwork Designs
25.) Furnature: Organic Furniture
26.) Eco- Furniture:
27.) Global Surroundings: Reclaimed Teak Furniture
31.) Green Sofa: Laguna Beach, CA
32.) Hauptman Products: Ann Arbor, MI
33.) Hertiage Salvage: Petaluma, CA
34.) If Green Furniture: Portland Oregon
35.) Jeff Builds Furniture: MN
36.) Jetson Green Furniture: San Francisco
37.) Knu: Sustainable office Furniture
38.) Loll Design: Sustainable outdoor furniture . Store locator on website
39.) MetaForm: From Salvaged wood and other sources
41.) Northern Naturals: Organic Furniture and home goods.
42.) Olo Inside: Boulder, CO Furniture made with paper and spun yarn.
43.) Peter Danko: Eco Modern Look
44.) Q Collection: NY
46.) Recycled Tire Furniture: Great Green Goods
47.) Robert Brandegee: Reclaimed wood
48.) Ryan Frank Chair From Plastic Bags
49.) Samuel Moyer Furniture: LA, CA
51.) Skurniture: Furniture made with recycled Skateboards; Encinitas, CA
52.) SMC Furniture:  made with reclaimed wood
53.) South Cone: Reclaimed Wood: Store Locator on Website
57.) Tropical Salvage: Portland, OR
60.) Twenty Gauge: Vintage American Steel Furniture
62.) Vintage Materials Supply: Austin, TX
64.) Wood Shanti: San Francisco, FSC Certified Wood
65.) Woodland Creek Furniture: 3 locations in Michigan
Vivavi:
66.) Zola Furnishings: Bend, OR
67.) Bed Made from Wood Pallets:
68.) Inhabitat: Lots of cool furniture
69.) Scrapile: Furniture made with woodworking scraps. Store locator on site
70.) Staples Cabinet Makers: Furniture made with reclaimed wood. (MA)
71.) Jeffs Backyard: Makes Furniture from Reclaimed wood
72.) AZcast Furniture: (CA)  Made with recycled, cast iron aluminum Store locator on website
73.) Chista: (NY) Showroom locator on website – Reclaimed Wood
74.) Ecologic (IL) Furniture made with recycled materials
75.) El- Furniture: (Il)  Member of Green Building Council
76.) Hardwood Artisans: (VA) Furniture made from sustainable sources
77.) Ukao Grass Furniture: (FL)
78.) Reestore: (UK) Really cool stuff: Shown wheelbarrow chair
79.) Corkhouse:(ON)  Furniture made with Cork
80.) Daniel Michalik: (NY)  Cork Furniture
81.) Iannone Design: (PA)
82.) Cocopa: (CO) Furniture made with reclaimed wood
84.) Reform sustainable
Great Resources: