I Just Gotta Tell Ya
Showerheads leaking at 10 drips per minute wastes more than 500 gallons per year. That'senough water to wash 60 loads of dishes in your dishwasher.
Taking a 3 minute shower saves enough water to supply 17,000 people for a day.
A typical non-conserving showerhead will spray over five gallons per minute (GPM), so cutting your shower from eight minutes to three will save a 25 gallons of water.
Save money-30% of energy use in the US goes into pumping water in and out of our homes
What You Can Do
Try not to shower everyday
Do not shave legs and underarms in the shower
Don't brush teeth in the shower
Put a bucket under faucet and collect water while waiting for water to warm up.
If you are using biodegradable soaps and shampoos, just keep the bucket in the shower to use for clean up and water plants.
Turn off water, when lathering. Turn back on to rinse off.
You don't have to lather up everyday- just do a quick rinse, wash face, underarms, and groin area. This is particulary good if you have dry skin.
Put a timer in the shower-
Buy an Low Flow Shower Aerator.
I use a Water-Pik and love it ($30 at Home Depot) which at the time was billed as a low flow showerhead, since WaterSense was not rating showerheads yet.
evolve Chrome Showerhead Roadrunner ($39.00 from Amazon)-This showerhead saves more than 40% of the water and heat energy. Automatically turns off water when it gets to a certain temperature.
High Out Put Showerhead $10.00 Gaiam
ShowerStart  ($19.00- Gaiam)

Just screw ShowerStart between your showerhead and pipe, turn on the hot water, and walk away. As soon as exiting water hits 95°F, it's reduced to a trickle. Instead of conscientiously waiting for hot water to arrive, you're free to better use your time without worries about water or energy waste. You'll hear hot water appear, but relax! It'll be ready when you are with a simple switch that restores full flow. Fits all standard showerheads. Automatically resets after each use.
OxgenicsX Stream ($19.00- Gaiam)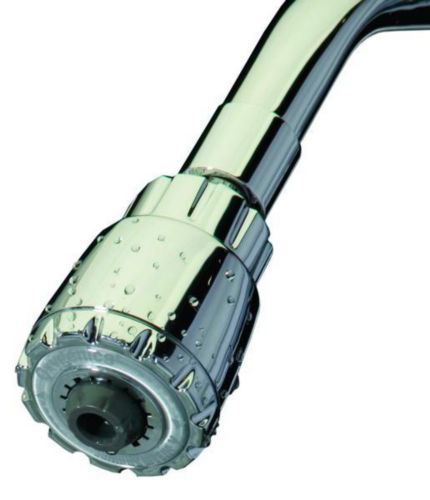 This new model goes a step further by performing the same feat at the ultra-low and variable water pressures found in RVs, cabins and camps, off-the-grid homes, and other places. Patented fluidic technology increases water velocity to produce a steady and powerful skin-tingling spray at pressures as low as 3 psi. Its 1.4-gallon per- minute flow rate compares impressively to the 0.5 gpm output of its competitors!