The whole topic of Alternative Energy to me is complicated. There is so much to learn and know what the best options for you and your home. Where do you go to find the best information? Do you have to get on the internet just to look up one item? 
Browsing along the web, I came across Real Goods – a great resource for Green Living and alternative energy. What attracted my attention is this resource book for Solar Living. You can buy the book from Real Goods
($19.00-used- $35.00)  or from Amazon $23.10 
Their description: 
'This 30th Anniversary Edition showcases a NEW chapter on Relocalization, including localizing energy, food, goods and services – a movement whose strategic response to the problems of peak oil and climate change may provide the primary solution to our present dilemma. The Sourcebook also features NEW chapters on Permaculture, Biodynamics and Natural Burial. As aging boomers consider what's buried along with our loved ones (vast amounts of embalming fluid, metals and hardwoods) we respectfully offer this chapter as an alternative and the ultimate back-to-the-land movement.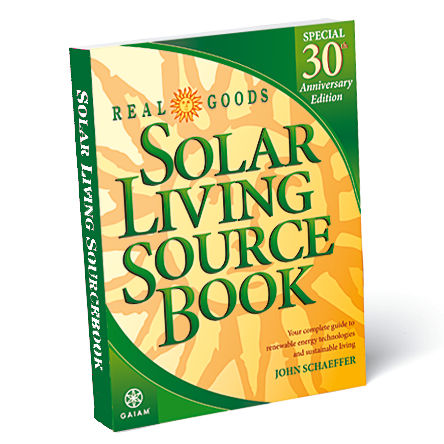 Plus, you'll find fully rewritten chapters on Land and Shelter and Solar Water Heating; updated sections on Sustainable Transportation and Solar Utility Intertie; and our comprehensive Sustainable Living Library with several hundred more books than ever before.This incomparable resource also includes more than 50 pages of maps, wiring diagrams, formulae, charts, solar sizing worksheets and much more. 
Whether you're a layperson or a professional, The Sourcebook puts the latest research and newest products at your fingertips to make sustainable living a reality. The Sourcebook is also a superior classroom text."
I've copied and pasted some of the reviews from Amazon 
Excellent, February 24, 2008
This book is the absolute best for covering renewable energy on a residential-sized scale. It covers all things solar/renewable energy: converting solar energy to electricity, wind generators, solar water heating, solar water pumping, energy conservation, off-the-electrical grid and grid intertie applications. There's an appendix with charts, maps and worksheets that help you design your own solar home and energy system. It is well written, with the information easy to follow. There is just enough theory included so you can follow the technical descriptions of the system components. It's got 634 pages and there's not much wasted space. The chapter on "Natural Burial" is a little over-the-top, but I guess the editor is just trying to be comprehensive. 
I have lived off-grid for over seven years and teach a renewable energy class at a nearby community college. I tell my students that if they are going to buy just one book on renewable energy, to buy this, the latest edition of the Solar Living Sourcebook. 
Keep in mind, this is a catalog for Giam/Real Goods. Products and services are described and prices are listed. They would like you to do business with them. I have found that many of the products listed can be found cheaper elsewhere, but having the prices listed is a plus…you can put together a system and get a ball-park figure (a little on the high side) on how much the system will cost you. In my opinion, Real Goods is a reputable company, very service oriented, and very knowledgeable. 
If you want more information on residential sized renewable energy systems, the magazine Home Power (www.homepower.com) is superb. They publish six issues a year, with a hands-on type format that makes you want to get out there and build something! 
If you are interested in using solar energy to make electricity, but want the advantages of being tied to the grid, the book Got Sun? Go Solar by Rex Ewing and Doug Pratt is excellent. If living off-the-grid is more to your taste, check out The Renewable Energy Handbook by William Kemp.
Outstanding bible on solar energy, September 16, 2007
I am an engineer and was looking for a book that has an easy to understand yet fact based and accurate book on solar energy implementation. 
i was not disappointed. This is one of the best basic reference book on different uses of solar energy that you can find on the marker.
Great source for most solar usages, July 18, 2008
 
   

While the DOE (Department of Energy) has a good informative internet site (that is free), I decided on the Real Goods book because I have been familiar with Real Goods for many years. While it cost me some dollars, it is nicely organized and some what complete.
So, it sounds great for those of us who want to be in the know, and need a reference guide to browse or to implement alternative energy solutions. 
If you are interested in buying this book, click on any of the links and Happy Reading!