I read this article about motivating to 'Go Green'. I'm not quite sure what I think about it. Thought I would look up other types of surveys and see what they say. It's just interesting information. Thought I would share it 
What motivates you the most to adopt the green lifestyle?
20% – It is a healthy lifestyle.
41% – I do it for the environment.
23% – I save money.
16% – It's trendy.
Gallup Poll (more results on the link ) 
l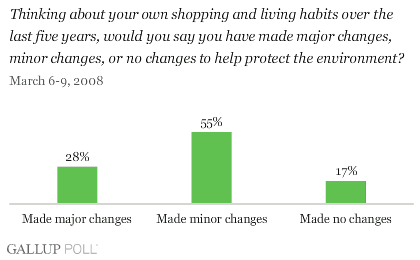 Survey Stating that Americans are the Least Green 
Another Survey – Corporate Challenges
Joel Makover's- Survey Round up-