It's bathing suit time again- which means sunscreens and hair removal! There are many ways to get rid of hair-shaving, threading, plucking, depilatories, waxing, laser, electrolysis, prescription treatments. Some are expensive, some hurt -some are bad for the environment (throw away razors, toxic ingredients in depilatories, plus the packaging) 
I Just Gotta Tell Ya
80% of the women and around 50% of the men are going for hair removal in some form or the other. 
Cleopatra used to use sugar, oil and lime juice to make the first hair removal solutions. 
The most eco-Friendly thing you can do is not remove any hair (like that's gonna happen!) pluck (using only tweezers) use homemade recipes (ideal)  or get rid of hair permanently and never have to shave again. (expensive) 
I have had laser hair removal- and if I had $1000's of dollar to spend, I would go every week to eliminate the need to ever shave again. That said you can try Electrolysis-Verseo E-Pad Electrolysis System
From Gaiam ($89.00) \ Eliminates unwanted hair permanently – after several treatments – using an easy  electrolysis pad system. Place the self-adhesive pads on your legs, bikini line, upper lip or underarms; harmless electrical pulses pass through conductive gel and eliminate the hair root without painful needles.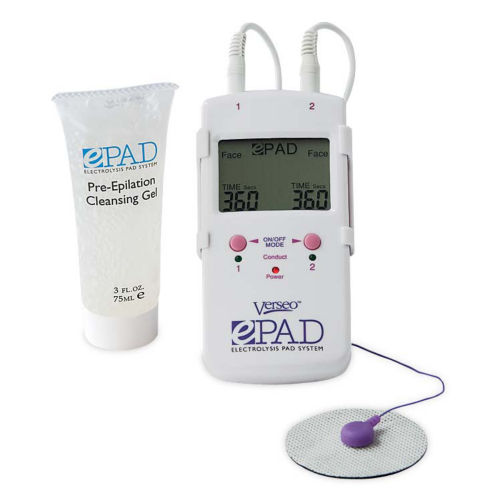 or if you are going on that Hawaiian Vacation Gaiam offers a portable hair removal system.
or you can make your own Eco Friendly Sugar Hair Removal (which is less painless than waxing)- What I love about these recipes- you probably have all the ingredients in your kitchen!  
Homemade Hair Removal Recipes 
Remove Facial Hair 
Besan (1 tsp) maida (1 tsp.) lemon juice (1 tsp. ) mix well- apply and rub slowly to rove from face. Wash with lukewarm water, then cold water, Apply daily for a week, then 3x a week, 2x wrx 
Body Sugar Recipes 
Recipe One 
1 Cup white sugar
1/4 cup honey 
1 ounce lemon juice 
Popsicle sticks or small plastic spatulas 
Cotton strips or muslin( 3 inches x 12 inches  
Place all of the ingredients in a small microwave-safe bowl. Microwave the mixture on high for a couple minutes. Remove the bowl with pot holders- and stir it well. When smooth, it's ready to use. If it's not, microwave it for another 30 to sixty seconds. Remove it from the microwave oven and allow it to cool a bit. The body sugar mixture should be warm, but not burning hot when you use it. 
Using Popsicle stick spread thin layer of body sugar on area. Place strip of cotton material over body sugar so completely covered. Rub material in to press cotton into sugar mixture  
Take hold of one end of the cotton material. Then, pull it up and off of your skin in one quick yank. Since you're taking the hair out by its roots, this process is going to sting a little. 
Continue to use until you have removed all the hair. Reuse strips of cotton until they don't don't work well. As body sugar cools- reheat in microwave. 
When done, wash off skin with warm soapy water. Apply moisturizer. 
Store leftover body sugar in sealed microwave safe bowl. Will keep 
Recipe Two 
1 cup 

sugar

Half a lemon for the 

juice

1/4 cup honey

A little bit of Molasses if you have any like a drizzle

Cornstarch (to powder with for tautness making it more effective)

Something to spread the mixture with like a tongue depressor, Popsicle stick, 

cheese

 spreader or spatula.

Cotton fabric (any old thing you can find or buy some strips at a store)
Mix lemon, sugar, and honey in a bowl. Microwave on high for about 2-3 minutes, until it bubbles into a smooth consistency. Make sure your legs or where ever you wish to place it is clean and dry. Then dust area with cornstarch so it's more effective as it draws out oil. Spread a thin layer on your leg. Cover with a strip of fabric, and rubbing the strip the opposite way of hair growth, about 3 times.
Grab the fabric end and pull it off very quickly against the direction of the hair growth or the other way if you wish.  
Recipe 3 
2 cups brown sugar
¼ cup water
¼ cup lemon juice
Pour the sugar, water and lemon juice all together in a saucepan, and heat it over a low flame. Keep stirring the mixture to avoid burning. Stir it until all the sugar has melted, and you have a thick brown liquid. To know if it's ready, pour a drop of the mixture into a glass of water, if the drop spreads, it is not ready. You want a consistent drop. Let it cool slightly before using it. It can be stored in a heat proof container for later use
Before applying wax, make sure you apply cornstarch or baby powder to the area, as it absorbs moisture and allows the hair to be removed much more smoothly. Use cotton muslin wax strips that you can pick up from any beauty store or cut up old cotton shirts into strips to use.
Some don't use wax strips in removing hairs. Just warm it up between your hands smushing it, snapping it apart until it's a bit firmer than play dough. when you store it in the fridge it should be very hard