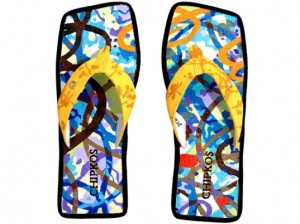 No doubt ecology is a big issue, and no doubt businesses will hype their ecology concern in an effort to increase sales. However, one company takes it to the extreme and hopefully it will benefit Costa Rica.
Last week, designer sandal's guru, Chipkos announced their latest pair of flip-flops. They will be the world's most expensive, jaw-dropping $18,000 for a pair.
WOW!!! –  H.Stern's $17,000 diamond-flecked sandals previously held that title.
Hand-painted by Los Angeles contemporary artist David Palmer, the one-of-a-kind, ashram-inspired sandals features the Chipkos emblem gilded in six grams of 18-carat recycled gold by Readers Fine Jewelers in Santa Monica.  Although they are pretty funky, the pair is not emblazoned with diamonds, or even Swarovski crystals or any other  precious jewels for that matter.
So how can they justify the price?
Here is the "justify price" or eco-hype:  For each pair sold, Chipkos will adopt 100,000 square feet of endangered rainforest in Costa Rica and guarantees, the protection and preservation of land, species and natural resources … read more at  Flip-flops Help Protect the Rainforest