I have always loved nature and animals. Learning about a particular animal can be fascinating and living in the coast gives you plenty of diversity to choose from. In the past few years I've had the opportunity to get really close to sea turtles and learn a lot about them.
I live in Bucerias, Mexico. A coastal little town close to Puerto Vallarta, which is a big tourist destination, but it is also close to empty beaches and I've been able to see the difference between a tourist conservation program and an eco friendly one.
Mexico is one home to several of the most important turtle nesting beaches and other habitats for sea turtles. Six out of the world's seven species nest along its 9330 Kilometers of coastline. Below, you can find a map including all sea turtle species that nest in Mexico and where they are more often seen.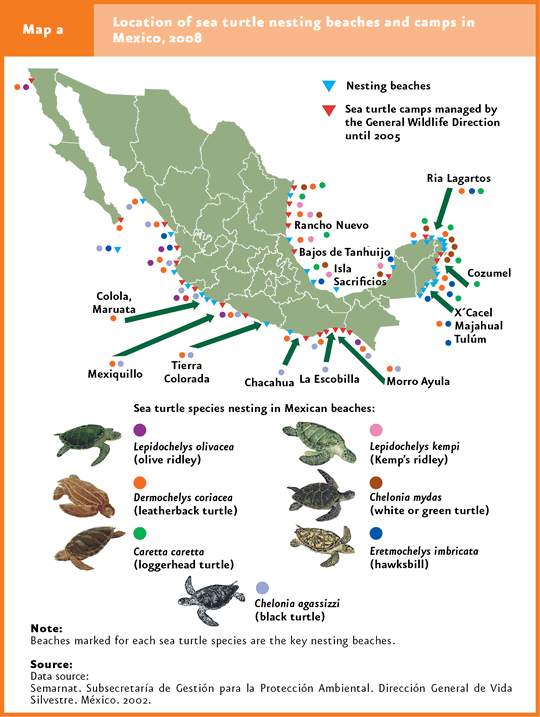 Main threats
Most sea turtles die early in life. Sea turtles usually lay around one hundred eggs at a time, but on average only one of the eggs from the nest will survive to adulthood. Predators such as humans, raccoons, foxes and birds will raid the nests. Then during the run to the ocean, hatchlings may be eaten. Even in the water, they are not safe. Seabirds, large fish and even other turtles are a danger.
Worse is the damage human cause by marine debris. Marine debris being plastic which may be mistaken for jellyfish. The plastic gets caught in their stomach and in another condition called 'bubble butt' Sea Turtles float because of de-composting marine debris, which is gaseous and cause the turtle to float. Lets not forget about ghost fishing nets in which they can become entangled.
Poaching or Illegal hunting for turtle meat, eggs and shell trafficking is also a big problem for turtles. It is estimated that 35,000 sea turtles are killed each year just in Baja, Mexico and the same number in Nicaragua.
Eating Sea Turtles has been outlawed since 1990, but that hasn't stopped the consumption and killing of turtles. In fact 5 of the 7 Sea Turtles are listed endangered or threatened.
Conservation programs in Mexico:
Many hotels in the area have sea turtle conservation programs, however, they may not be as eco friendly as they claim to be.
Many of these programs include nightly patrolling on the beach, spotting of nesting turtles, collection of eggs, incubation, assisted hatching, baby turtle release and collection of data. Those programs are intended to reduce mortality rates by protecting the eggs and hatchlings from natural predators and other threats. On the other hand, the simple fact of a hotel existing there is a threat to turtles.
The development of coastlines forces nesting females to use other beaches changes the properties of nesting beaches. The hotel pollution such as sunscreen, plastics and runoffs contributes to the destruction of sea turtle habitat. Anything left on the beach beach chairs, plastic bottles and other debris are obstacles for nesting females and for the hatchings as they can get trapped and never make to the ocean. 
Add in human, loud and heavy cars and equipment can frighten nesting females or even crush the eggs in an incubating nest. Add in the beachfront lighting which disorients hatchlings when they emerge from the nest, leading them away from the water and towards roads and buildings where they die.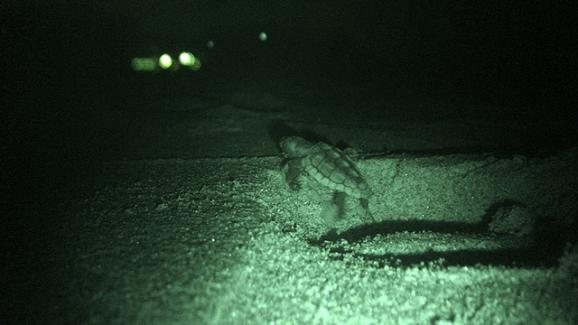 On the other hand, we have other conservation programs that are much more eco friendly. A few hours from where I live, my favorite beach is a little piece of paradise called Mayto. It is not a main tourist destination, but it has been growing and becoming more famous in the past few years. Mayto is the perfect beach for those who love taking care of the environment. There's only one small hotel and it is focused only on eco tourism to minimize human impact not only on sea turtles, but the eco system in general.
Visiting Mayto can be a little bit of an adventure and a lot of learning. It has the Sea Turtle Protection Camp, which is owned by the university of Guadalajara (UDG). It protects 11.5 km (7.14 miles) of coastal line. It has a very eco-friendly infrastructure. It has a few big palapas so volunteers and visitors can setup their tents, a couple of eco-showers and toilets.
Inside the camp they study sea turtle behavior from their arrival to the beach until their departure. A biologist measures length and width of the turtle, the distance between its nest and the ocean, which is usually 15 meters. They have a meteorological station that provides data on winds, humidity and makes a comparison on the times and conditions when more turtles are laying eggs, the variation between these moments, the section to which the turtles arrive, the depth of the nest, and so on.
Mayto is considered the best turtle camp on the Mexican pacific coast, according to the Comisión Nacional de Área Natural Protegida (National commite for Protected Natural Areas). Throughout its operation, the turtle camp has managed to collect more than 200,000 eggs and has maintained an 87% birth rate in the turtle eggs collected and treated for their preservation. The turtle has several periods of arrival to the coasts, generally its greater arrival is at the beginning of August and ends in the middle of October.
I have been to this place a lot of times. I actually go as often as I can. I have even participated as a volunteer in the programs. Volunteers collect the eggs from nesting turtles at night, bury them in designated areas, prepare the older nests and help them hatch. They count the amount of baby turtles being born alive or dead and the egg shells to collect data. After all turtles are counted, they clean the nests so no shells are left there and they release the turtles back into the ocean.
So, if you are thinking of visiting a turtle camp to know more abour what they do, be sure to visit an eco-friendly destination where you can actually feel you are helping save the world. Trust me, it is one of the best feeling in the world. You can find more information of Mayto turtle camp on their Facebook page. Check out the volunteer programs and come to Mexico to help us save the turtles!
To view more images on the effect of Humans and Marine Debris on Sea Turtles, check out the Pinterest board: Save our Turtles 
Resources:
My name is Guera Bertoldi. I live in Bucerias, Mexico with my 2 dogs and 3 rescue cats. I am a nature and animal lover and one of my main concerns is the loss of natural habitat and overkilling of endangered species. I like to travel to eco-friendly destinations and participate in conservation and cleaning programs in my community. I like to keep myself informed and I love sharing my information and opinion with the whole world. I think that the more educated people we have, the best results for our beloved planet.